Behind the brand mr. flint is the Saxon inventor and creative genius Sören Flint, who helps people in everyday life to become more independent and comfortable with his innovative products – true to the motto "Improving the world with little things in everyday life".
The universally applicable holding fix "Gnubbel" also contributes significantly to the fact that with small changes a perceptible and lasting improvement in everyday life occurs.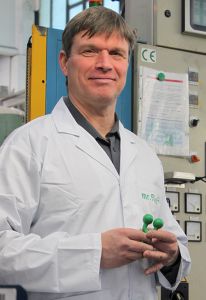 Sören Flint: a portrait
Sören Flint born, 1967 in Weißwasser / Oberlausitz, is today owner of the company REIFEN-TRIPKE in white water and a pest control company. He works as a wood protection expert, tree inspector, industrial climber and beekeeper. You can read more about the comprehensive activities of Sören Flint on www.insektenkontrolle.de and www.reifen-kontrolle.de.
But one thing is missing – the love of helping. Inventions and innovations are a passion of Saxony. Already many small developments help the acquaintances and friends of Sören Flint. As mr. He now brings out some of his best inventions for everyone.
Haltefix: In the beginning was the idea
The idea for the Haltefix, the new, individually usable retaining gum made of rubber, was created in 2012, followed by designs and the first 3D printing models in 2014. One year later, the first version of the multifunctional Gnubbel was ready for production. Discover now the organizational talent with a variety of applications – Haltefix: helps in no time!
Convinced? Buy your Gnubbel now!